Games shock as Massaro and Duncalf fall to brilliant Indian duo
By Squash Mad Reporters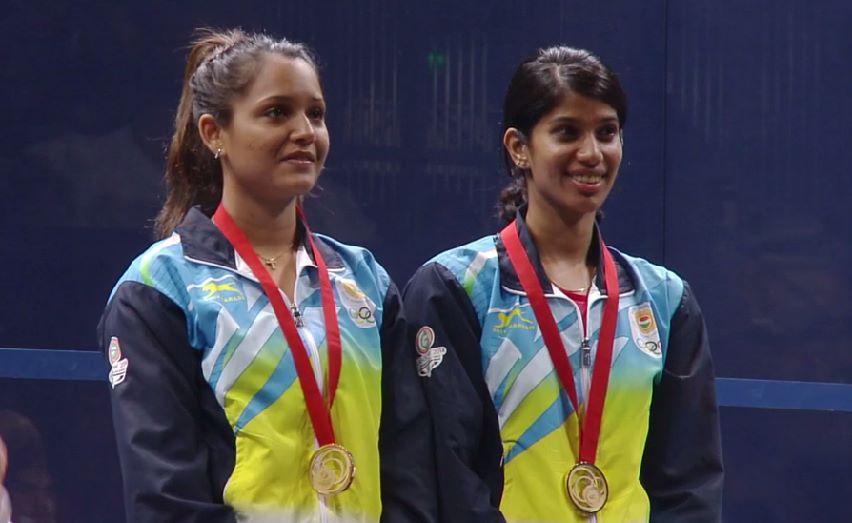 Joshana Chinappa and Dipika Pallikal combined brilliantly to clinch gold in the women's doubles final and give India their first squash medal in the Commonwealth Games after the pair outplayed Jenny Duncalf and Laura Massaro of England on Saturday.
The fifth-seeded Indian pair made short work of their English opponents with a 11-6, 11-8 win in the best-of-three game final.
The Indians though looked in some trouble in Game 2 when they trailed 7-2 at one point, but some incredible drop shots from Dipika and Joshana made the win look easy in the end.
Duncalf and Massaro were no match for the absolutely in-sync Indian pair, who moved rhythmically in the glass show court at the Scotstoun Campus Squash arena.
The English duo played traditional squash with no variety at all and played the doubles match with a 'singles' mindset against the Indian players, which seems to have mastered the doubles game.
Dipika said afterwards: "We were 7-2 down in the second game but we still had the belief that we could do it and we never wanted to let go of any point. And I guess that is what made the difference. We could have come out 1-1 and a third game would have been very tough.
"I think just the desire (kept us going). We have come so far that we didn't want to settle for silver. We don't like silver; we like only gold. I don't think it has sunk in yet."
Massaro, who also won a silver medal in the singles, commented: "I'm disappointed that we didn't win, but we gave it our all.
"We've had a great week and I'm proud of the silver. I'm more proud of my performances in the doubles than the singles really.
"We don't play it for four years, so for us to come together as a pair with very little preparation and perform like that is something to be proud of."
Duncalf admitted that she and Massaro had lost to the better partnership on the day.
"I think we got beat by a better pair to be honest," she said. "It's disappointing, but they played really well.
"The second game we had a lead, but then struggled to get a point. They were a bit more positive than us out there. But it's still a silver medal."
England though took consolation from the fact that Alison Waters and Emma Beddoes thrashed Kasey Brown and Rachael Grinham of Australia to take bronze and keep the nation firmly atop the medals tally.
Nick Matthew and Adrian Grant ended the glorious run of Scottish pair Alan Clyne and Harry Leitch and will meet Aussie pair David Palmer and Cameron Pilley in the men's doubles. They comfortably controlled the English paiting of Daryl Selby and James Willstrop.
There was more English success as Peter Barker and Alison Waters stormed through to the mixed doubles final beating second seeds Martin Knight and Joelle King.
Mixed semi-finals:
[3] Grinham & Palmer (AUS)  2-0 [1] Brown & Pilley (AUS)  11-7, 11-4
[4] Waters & Barker (ENG) 2-0 [2] King & Knight (NZL) 11-3, 11-6
—
Men's semi-finals:
[1] Grant & Matthew (ENG) 2-0 [4] Clyne & Leitch (SCO)  11-7, 11-2
[2] Palmer & Pilley (AUS) 2-0 [3] Selby & Willstrop (ENG) 11-4, 11-4
—
Women's Bronze:
[3] Beddoes &  Waters (ENG) 2-0 [2] Brown & Grinham (AUS)  11-3, 11-5
Women's final:
[5] Chinappa & Pallikal (IND) 2-0 [1] Duncalf & Massaro (ENG)  11-6, 11-8
—