By MICHAEL CATLING
HONG KONG number one Max Lee kept home hopes alive by easing past fellow compatriot Ma Taz Hei in straight games and moving one step closer to making the final PSA World Series event of the year at the Hong Kong Open.
Lee, who reached the second-round of the World Championships in Manchester last month, was viewed as the overwhelming favourite heading into the match and triumphed 11-5, 11-3, 11-8 to setup a qualifying finals encounter with Andrew Wagih of Egypt.
But while there was joy for Lee in the first qualifying round, there was despair for several other local players, as many wilted under the pressure of expectation at the Hong Kong Squash Centre.
Elsewhere, 21-year-old Frenchman Lucas Serme shocked world number 34 Alan Clyne in four tight games, while Indian teenager Mahesh Mangaonkar battled back from a game down to upset world number 37 Henrik Mustonen 9-11, 11-8, 11-5, 11-4.
The world number 98, from Mumbai, is rewarded with the daunting prospect of facing world number 34 Joe Lee for a place in the main draw, after the Englishman brushed aside Ivan Yuen 11-8, 11-6, 11-4.
Meanwhile in the women's event, reigning Asian Junior Champion Ho Ka Po booked a meeting with Welsh number one Tesni Evans in the qualifying finals after beating former world number 41 Sina Wall of Germany 11-9, 11-7, 11-3.
The Hong Kong youngster was joined in the next round by fellow local favourite Tong Tsz-Wing, who eased past Nadine Ayman Shahin 11-6, 11-6, 11-2 in just under half an hour. The 21-year-old will now play England's Emma Beddoes, who prevailed over Lee Ka Yi in straight games.
Beddoes and Tsz-Wing should have been joined in the qualifying finals by Choi Uen Shan, who had a match ball against world number 58 Laura Pomportes. However, a mishit tin by the unranked 17-year-old proved pivotal as the 24-year-old French player scraped through 11-7, 8-11, 11-8, 9-11, 12-10.
But while Pomportes 52-minute win was recorded as the longest women's match of the day, the shortest was easily Latasha Khan's 13-minute victory over Cheng Nga Ching who, at 13, is some 27 years younger than the American veteran.
Qualifying Round One – Men's Results:
Gregoire Marche  (Fra) 3-0 Yeung Ho Wai (Hkg) 11-4, 11-5, 11-6 (26m)
Shaun le Roux (Rsa) 3-0 Henry Leung Chi Hin (Hkg) 11-4, 11-8, 11-8 (30m)
Campbell Grayson (Nzl) 3-0 Muhd Asyraf Azan (Mas) 11-6, 11-7, 11-8 (38m)
Nafiizwan Adnan (Mas) 3-0 Tang Cheuk Yan (Hkg) 11-2, 11-5, 11-6 (24m)
Omar Abdel Meguid (Egy) 3-1 Raphael Kandra (Ger) 11-8, 7-11, 11-8, 11-8 (45m)
Steve Finitsis (Aus) 3-0 Yuen Tsun Hei (Hkg) 11-5, 11-3, 11-1 (24m)
Andrew Wagih (Egy) 3-0 Chris Lo (Hkg) 11-4, 11-4, 11-5 (21m)
Max Lee (Hkg) 3-0 Ma Taz Hei (Hkg) 11-5, 11-3, 11-8 (25m)
Lucas Serme (Fra) 3-1 Alan Clyne (Sco) 11-6, 11-7, 6-11, 11-7 (63m)
Nasir Iqbal (Pak) 3-0 Yip Tsz Fung (Hkg) 11-8, 11-9, 12-10 (27m)
Mahesh Mangaonkar (Ind) 3-1 Henrik Mustonen (Fin) 9-11, 11-8, 11-5, 11-4 (45m)
Joe Lee (Eng) 3-0 Ivan Yuen (Mas) 11-8, 11-6, 11-4 (38m)
Adrian Waller (Eng) 3-1 James Huang (Tpe) 11-8, 11-4, 10-12, 11-1 (45m)
Harinder Pal Sandhu (Ind) 3-0 Wong Chi Him (Hkg) 12-10, 13-11, 11-9 (34m)
Jaymie Haycocks (Eng) 3-0 Lau Tsz Kwan (Hkg) 11-2, 11-9, 11-8 (28m)
Mathieu Castagnet (Fra) 3-1 Wong Hong Fung (Hkg) 10-12, 11-3, 11-4, 11-2 (31m)
Qualifying Finals – Men's Draw:
Gregoire Marche (Fra) v Shaun le Roux (Rsa)
Campbell Grayson (Nzl) v Mohd Nafiizwan Adnan (Mas)
Omar Abdel Meguid (Egy) v Steven Finitsis (Aus)
Andrew Wagih Shoukry (Egy) v Max Lee (Hkg)
Nasir Iqbal (Pak) v Lucas Serme (Fra)
Joe Lee (Eng) v Mahesh Mangaonkar (Ing)
Harinder Pal Sandhu (Ind) v Adrian Waller (Eng)
Mathieu Castagnet (Fra) v Jaymie Haycocks (Eng)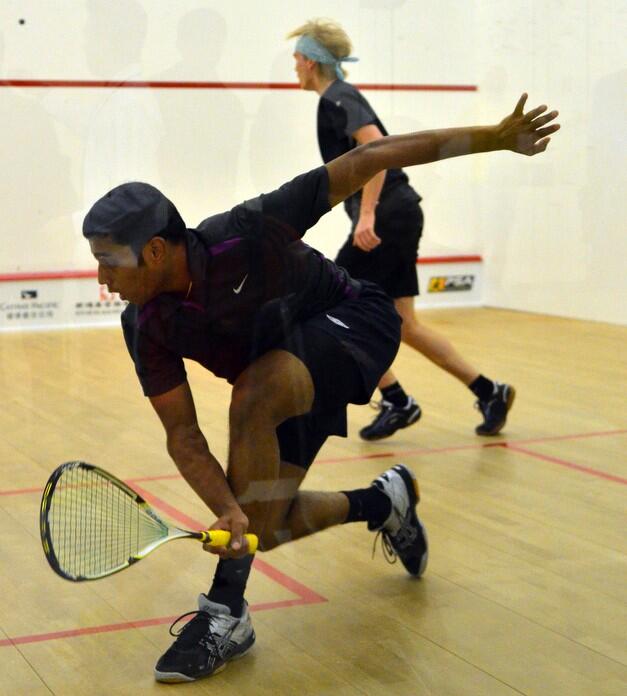 Qualifying Round One – Women's Results:
Emma Beddoes (Eng) 3-0 Lee Ka Yi (Hkg) 13-11, 11-6, 11-6 (28m)
Tong Tsz-Wing (Hkg) 3-0 Nadine Ayman Shahin (Egy) 11-6, 11-6, 11-2 (29m)
Tesni Evans (Wal) 3-0 Carmen Lee (Hkg) 11-7, 11-2, 11-9 (21m)
Ho Ka Po (Hkg) 3-0 Sina Wall (Ger) 11-9, 11-7, 11-3 (30m)
Sam Cornett (Can) 3-1 Vanessa Chu (Hkg) 11-8, 11-7, 9-11, 11-9 (30m)
Melody Francis (Aus) 3-0 Jannis Lam (Hkg) 11-8, 11-4, 11-8 (26m)
Yathreb Adel (Egy) 3-0 Li Donglin (Chn) 11-8, 11-5, 11-5 (16m)
Laura Pomportes (Fra) 3-2 Choi Uen Shah (Hkg) 11-7, 8-11, 11-8, 9-11, 12-10 (52m)
Olivia Blatchford (Usa) 3-0 Chan Ho-Ching (Hkg) 11-7, 11-7, 11-4 (22m)
Coline Aumard (Fra) 3-0 Belen Etchechoury (Arg) 11-2, 11-6, 11-4 (19m)
Salma Hany Ibrahim (Egy) 3-0 Aparajitha Balamurukan (Ind) 11-0, 11-6, 11-4 (20m)
Delia Arnold (Mas) 3-0 Karman Siu (Hkg) 11-5, 11-3, 11-6 (19m)
Deon Saffery (Wal) 3-0 Ho Ka-Wing (Hkg) 11-8, 11-3, 11-2 (19m)
Misaki Kobayashi (Jpn) 3-1 Sarah Cardwell (Aus) 11-3, 11-3, 9-11, 11-6 (33m)
Miriam Metwally (Egy) 3-0 Ho Tze-Lok (Hkg) 11-9, 11-5, 11-6 (25m)
Latasha Khan (Usa) 3-0 Cheng Nga Ching (Hkg) 11-2, 11-6, 11-7 (13m)
Qualifying Finals – Women's Draw:
Emma Beddoes (Eng) v Tong Tsz-Wing (Hkg)
Tesni Evans (Wal) v Ho Ka Po (Hkg)
Samantha Cornett (Can) v Melody Francis (Aus)
Yathreb Adel (Egy) v Laura Pomportes (Fra)
Coline Aumard (Fra) v Olivia Blatchford (Usa)
Delia Arnold (Mas) v Salma Hany Ibrahim (Egy)
Misaki Kobayashi (Jpn) v Deon Saffery (Wal)
Latasha Khan (Usa) v Mariam Ibrahim Metwally (Egy)
Pictures by Steve Cubbins (SquashSite)