Victory over Nour El Tayeb gives David her 75th WSA tour title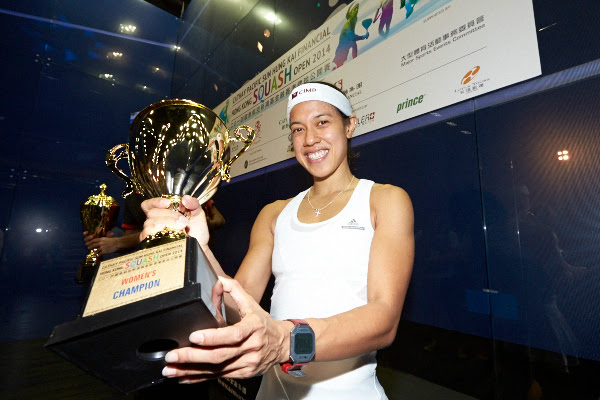 Malaysia's  Nicol David yesterday notched a trio of  magical milestones in the climax of the Hong Kong Open  – winning the WSA World Series Gold title for the 10th year in a row; clinching her 50th straight match win in the former British colony; and notching up the 75th WSA World Tour title of her career!
David, the world number one since August 2006, arrived in Hong Kong having suffered a rare semi-final defeat in a WSA World Series event – a four-game loss to Egypt's world No3 Raneem El Welily in the Malaysian Open which denied the 31-year-old from Penang a 12th successive appearance in the final of her home country's principal event.
But, true to form, David bounced back in Hong Kong – dropping just a single game en-route to the 94th final of her career.
Her unexpected opponent was Nour El Tayeb, the No16 seed from Egypt who had resumed her giant-killing exploits last week in Malaysia to knock down the second, fourth and fifth seeds in Hong Kong to reach her second unscheduled World Series final in a week.
But, despite taking David (pictured below in action with El Tayeb) to game balls in the second, the 21-year-old from Cairo was unable to penetrate the top seed's armoury as the Malaysian marched through to a resounding 11-4, 12-10, 11-8 victory.
"I'm really pleased to win 3/0 and win in Hong Kong again," David said after her triumph in 39 minutes on an all-glass court erected in the Hong Kong Park Sports Centre.
"Nour is an up and coming player and she never gave up, especially in the second when she really pressured me and played exactly to her game plan. I had to really focus and work hard to take four points in a row to win that game.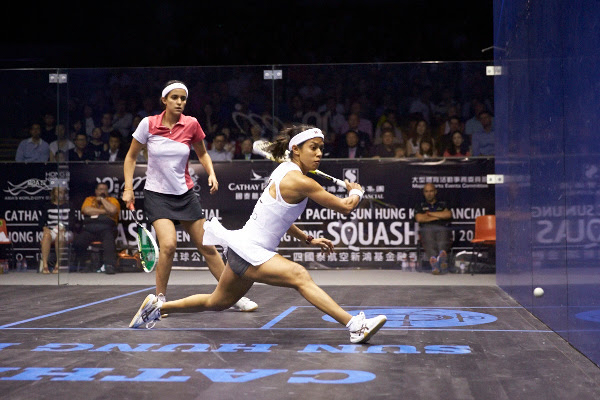 "It was crucial to win the second and not give Nour confidence and play her rhythm because she's proven why she's in these finals. I knew I needed that second game and then took it on full speed in the third game.
"I lost last week in Malaysia, but I always enjoy it here in Hong Kong and it's especially nice to win here again after last week's disappointment.
"I'll head home to Malaysia now," continued Hong Kong Open champion. "This is a good boost for my preparations ahead of the Asian Games coming up in South Korea."
Final:
[1] Nicol David (MAS) bt [16] Nour El Tayeb (EGY) 11-4, 12-10, 11-8 (39m)
Picture by Steve Cubbins (SquashSite)