By LEE HORTON
No.1 seed Gregory Gaultier crashed out of the Qatar Classic in Doha today after a 'street fight' of a match against Borja Golan of Spain.
In a match littered with controversy, mainly caused by referring decisions that left TV viewers, players and commentators completely baffled, Frenchman Gaultier stormed off court at the end clearly furious at the official's handling.
The players continually clashed with lets and strokes being dished out like confetti. PSA chief executive Alex Gough recently spoke at his desire to improve squash as a TV spectacle by curtailing the amount of lets in the game. He had a front row seat in Doha and must have been close to tears as he watched the car-wreckage of a match unfold.
After Gaultier had taken the first game the bumps, collisions and appeals increased, and Golan took advantage to take the next two games.
The fourth was a battleground with both players appealing at the end of almost every rally resulting in countless stoppages. The decisions became more in-consistent sparking more tension and unrest among the players.
Golan led 6-4, Gaultier seemed to have weathered the storm at 9-7 but Golan battled on having two match balls before finally converting as he put in a short ball that Gaultier couldn't reach. Predictably, he appealed but this time it fell on deaf ears and he was denied.
Afterwards Golan said:" You have to be tough on court. Greg is such a great player. I have to play every point like it was the last one. I think I played pretty well today."
Golan will now face Nick Matthew whose match against Amr Shabana ended at 2-2 in the second when the Egyptian appeared to twist his knee forcing him to retire hurt.
Nick Tweeted: 'Real shame that Shabs had to pull out tonight. Was shaping up in to a really tough match. Despite what you might think I don't like winning like this. Best wishes to Shabs and Ramy. And unlucky to Greg tonight. Time to rest up for the boys & recharge for Hong Kong.'
Earlier, Mohamed ElShorbagy ended the brave challenge of Englishman Daryl Selby booking a semi-final place against Karim Darwish with a 11/9, 7/11, 11/4, 11/2 win in 47 minutes.
Selby pulled off the shock of the tournament yesterday beating No.3 seed James Willstrop in a punishing 89-minute classic, but the physicality of that encounter played into Shorbagy's hands as he took advantage of an opponent short of his normal drive and energy.
Afterwards, Shorbagy heaped praise on Selby: "That is the best he has ever played against me. And it's probably our best match as well.
"Daryl now varies his pace. He came from a medium pace, and just doesn't play that anymore. But I wanted to see how long it would take him to feel his match yesterday. Because he was playing at his pace, and when you do that the day after you have  had a great win, normally, your body says stop at some point.
"After the second, I didn't panic, I just slowed down the pace to go under the pace he feels comfortable at, because when you are tired, and somebody forces you to slow down, you feel even more tired!
"At the moment, he is full of confidence after the great wins he had lately, Barker, Darwish, James last night. So I thought that I had to destroy that confidence. And no better way than to beat him at his own pace… So I made sure I beat him at his own game, then imposed mine.
 "But you know, he is 31. He has improve so much! And that will inspire me one day. When I'm 31, I'll know that I can still improve, like he did. And actually I'll ask him how he did it to try and do the same one day. He is a true inspiration."
Daryl later Tweeted: Played really well for 2 games today but couldn't sustain it unfortunately. Happy with my game at the moment, got to keep moving forwards!
Darwish was relatively untroubled in his quarter with fellow countryman Karim Abdel Gawad taking just of half an hour to complete the win.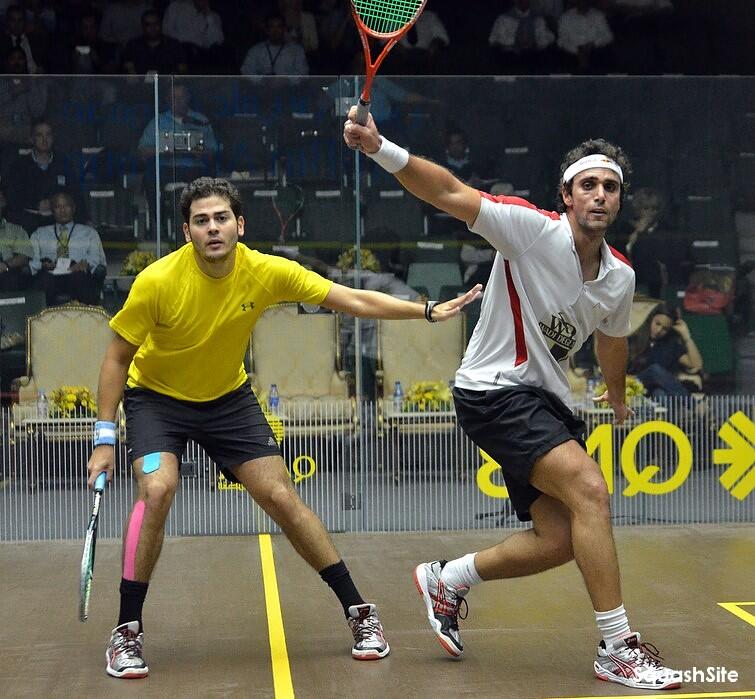 Quarter-final line-up:
[5] Mohamed Elshorbagy (Egy) 3-1 Daryl Selby (Eng) 11/9, 7/11, 11/4, 11/2 (47m)
[4] Karim Darwish (Egy) 3-0 Karim Abdel Gawad (Egy) 11/6, 11/5, 11/7 (32m)
[3] Nick Matthew (Eng) 3-0 [6] Amr Shabana (Egy) 12/10, 2/2 rtd
[7] Borja Golan (Esp) 3-1 [1] Gregory Gaultier (Fra) 7/11, 12/10, 11/6, 15/13 (79m)
SEMI FINALS: Matthew v Golan, Darwish vElshorbagy .