ENGLAND'S Daryl Selby turned the form book upside down last night when he dumped five seed Karim Darwish out of the World Squash Championship in Manchester to secure his first ever quarter final appearance.
The battle with Egyptian Darwish went the distance before Essex man Selby got over the line 4-11, 11-9, 12-10, 8-11, 11-8 to join England team-mates James Willstrop and Nick Matthew in the last eight.
There is history between Selby and Darwish and neither was prepared to give an inch. The officials were kept busy throughout the showdown, which was always going to be physical.
As Selby put away the winning shot, his delight was there for all to see as he punched the air and screamed with joy.
Selby, the world No14 who has never progressed beyond the last 16 in six previous appearances since 2007, dropped the opening game as the No5 seed from Egypt looked set to extend his 6/1 career head-to-head lead over the Englishman.
But Selby (pictured above in action with Darwish) fought back to take the next two games and move into the lead at the National Squash Centre. However, the world No5 from Cairo – runner-up in the event the last time it was staged in Manchester, in 2008 – regained control of the game to draw level.
It was nip and tuck through the decider, with Selby reaching 9-6 before Darwish cut back the deficit to 8-9. But two points later and it was underdog Selby who raised his hands in delight(as pictured below) after his 4-11, 11-9, 12-10, 8-11, 11-8 victory in 85 minutes – the longest match of the day.
"Wow, it's my first quarter-final of a world championship and what better place to do it than in front of a home crowd – thanks to the crowd for getting behind me tonight," said the jubilant 30-year-old Selby. "I think when it got close in the fifth the support really made a difference – I really felt the energy and it pushed me through because I didn't have much left there at the end.
"He beat me in a tight 3/1 last year so I guess that's a little bit of revenge. But he's a class player – he showed that last week at the US Open – and I'm ecstatic to win.
"I like being the underdog, I fight every point," continued the Essex hero. "I fight every time I'm on court even if it's not going my way and I don't feel like I'm hitting it where I want to. He played well the first game, I really struggled. I've had two matches on the back courts, he's had two matches on here – I think that was the difference.
"I just wanted to try and get a game. After the first game, I thought this could be quick – but I just dug in and I got there in the end. I'm proud to do it."
Selby's win ensures surprise domestic interest in three of the four quarter-finals. In the first match of the day, fourth seed Nick Matthew survived a hard-fought contest with 11th seedOmar Mosaad, needing 71 minutes to get past the tall Egyptian 11-4, 11-7, 11-13, 11-4.
"When it got tight in the third, he became very hard to beat," said the two-time champion from Sheffield. "I'm lucky I got to a good start in the fourth.
"We play the Nationals here – it's easier to win that as there are no Egyptians! I love the court, I'm used to it, I'm used to the bounces – it feels home to me and I'm used to the crowd!
"I had lost a bit of motivation at the end of last season, but I don't have the skill of James (Willstrop) or Ramy (Ashour) so I work on my tenacity," Matthew confided to the event MC.
"A new tournament starts tomorrow (at Manchester Central), it's so exciting, I'm sure we'll all love it, and the crowd as well, especially with the BBC being there and all."
In one of the pick of the last eight clashes, Matthew will take on distinguished Egyptian Amr Shabana, the four-time winner of the prestigious title.
Eighth seed Shabana denied Miguel Angel Rodriguez his first time in the quarter-finals when he beat the talented Colombian, the 16th seed, 11-6, 11-5, 11-9 in 37 minutes.
"I'm very happy to be in the quarters for the 11th time," admitted the 34-year-old former world number one from Cairo. "This is a very high quality tournament, and I'm very proud to be in it.
"Miguel is one of those dangerous players – I've played him four times now and every time I can feel the sting of his squash, his intensity is getting better, the quality of his shots is getting better, and he is very difficult to beat.
"You don't appreciate something until it's taken away from you. And when I was off sick for all those weeks (suffering with a liver complaint), not sure if I'll be able to step on another every again, I came to regret each time I got on court and didn't give my all."
On his next match with Matthew, Shabana added: "We've played each other so many times, he is an unbelievable athlete, I can't surprise him anymore, so I'll think about that one about one hour before the match!"
Third seed James Willstrop is England's other quarter-finalist. The world No3 from Harrogate despatched ninth-seeded Spaniard Borja Golan 11-4, 11-8, 11-6 and will now face Egypt's No6 Mohamed Elshorbagy in a repeat of last year's semi-final, which the Egyptian underdog won in a 112-minute marathon.
"Borja is in form at the moment, and when you play the top 16 in the world, it's bound to be tough," said world No3 Willstrop later.
"I'm really happy to play here – it's one of the best experiences you can have, to play in your home country. Manchester is almost all the English guys' second home because we all train here and we've played countless tournaments here. Manchester has always been a great supporter of squash so it's good to have people around you, to support, to come and watch – it's always good to have the crowd on your side."
Elshorbagy was on fire as he beat top-ranked German Simon Rosner, the No12 seed, 11-1, 11-9, 11-7.
Egypt's defending champion Ramy Ashour, the world number one from Cairo, secured his expected place in the last eight for the third year in a row when he beat Australian Cameron Pilley. But the 14th seed from New South Wales played one of his best ever matches against the dominant Egyptian and soon opened up a one-game lead.
Ashour found his form in the second and third and reclaimed the advantage. But world No13 Pilley, who had never before beaten his illustrious opponent in eight meetings over the past five years, was not about to lie down – and was a point away from levelling the match at 10-7 in the fourth.
But Ashour clawed back the deficit and clinched his first match ball to win 9-11, 11-8, 11-4, 12-10 in 62 minutes – thereby extending his unbeaten Tour run to 48 matches since May last year.
"Cameron played so well, he was finding nicks from everywhere – I was under so much pressure, my shots weren't going in at all today," said 26-year-old Ashour. "I had to rely on my fitness to win, and I'm so glad it worked! That win against Cameron gives me a lot of confidence.
"I have so much pressure, so many factors – plus that extra enemy up there in my head!
"Everybody wants to win this, and every match you play is a match for the World Champs title," added Ashour. "So I'll just keep on playing, I will keep on doing my best and keep playing."
Pilley commented: "Apart from a few periods, I played nice lines and lengths, killing the ball at the front as soon as I had the opportunity, keeping the pace up. And against Ramy, you've got to vary the pace as well.
"I did that in patches, but I feel that I had the wrong choice selection at the end of the fourth: I was playing like I was playing at 3-3 in that game, instead of 10-8. I should have taken the initiative I guess – but then again, I just kept on doing what I did to get me there!"
Ashour will line up against India's Saurav Ghosal – the only unseeded player in the last eight – after the 27-year-old from Kolkata put his name in the squash record books by becoming the first Indian to reach the quarter-finals in the event's 37-year history.
But world No17 Ghosal, widely regarded as one of the fastest players in the Tour, had to fight back from two games down to beat outsider Henrik Mustonen, the world No40 from Finland, 5-11, 8-11, 11-8, 11-4, 11-2 in 66 minutes.
"Henrik played unbelievable squash in the first two games," said a delighted Ghosal (pictured above in action with Mustonen) later. "Actually he was match ball down in his first round match and came back to win it – that shows how strong he is mentally. He really caught me off guard with the quality of his shots. I had to dig in super super super deep to grind out of that one.
"Personally for me it's a massive achievement. It's the first time I've made it to the quarter-finals of the World Championship and it's huge to be in there in the last eight with the world's best players. I've made it one step further than I have before so I'm going to enjoy it – but I will be coming back tomorrow and hopefully I can play another good game and give myself a chance of progressing even further.
The World Championship is a massive competition and a very prestigious title. It's a title every squash player dreams of winning and I'm delighted to go one step closer towards that dream."
In the final match of the day, in-form Frenchman Gregory Gaultier, the No2 seed, beat Egypt'sTarek Momen 11-5, 11-6, 11-6 to set up a quarter-final clash with Selby.
Quarter-final line-up:
[1] Ramy Ashour (EGY) v Saurav Ghosal (IND)
[4] Nick Matthew (ENG) v [8] Amr Shabana (EGY)
[3] James Willstrop (ENG) v [6] Mohamed Elshorbagy (EGY)
[2] Gregory Gaultier (FRA) v [13] Daryl Selby (ENG)
Event website: www.ajbellworldsquashchamps.co.uk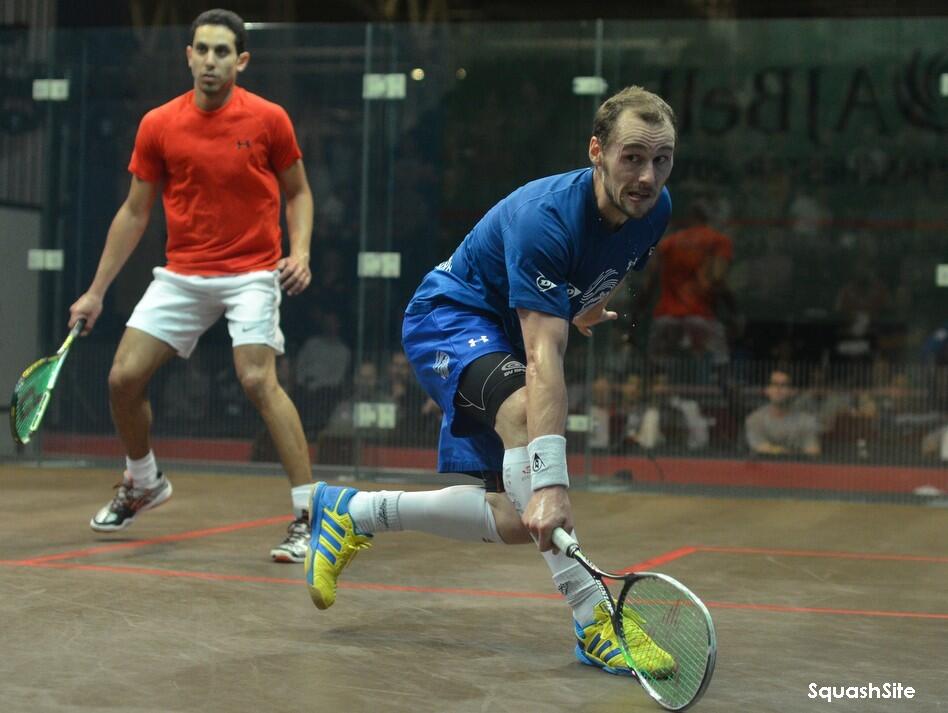 Third seed James Willstrop doused the resistance of Spain's Borja Golan to make the last eight at the Worlds in Manchester.
Willstrop came out of the traps in bristling fashion and raced to an 11-4 first game success. Thereafter if became much, much tougher as Golan found his way into the rallies and made Willstrop work much harder.
But Willstrop maintained the advantage, helped by a few untimely errors from Golan, for which he berated himself in typicval fashion. Golan led 8-7 but, amide a series of tough rallies and more than a few lets, Willstrop fought back to take it 11-8.
The third was similarly tough, but from 3-all Willstrop slowly started to regain control, extending his 6-3 lead to 10-6 and taking the match with one of many winning drops on his second match ball.
Borja
I didn't have a trouble adapting to the court today, I actually felt comfortable enough, I had a morning practice, and I felt fine. Trouble is I was playing good rallies, but in patches, not all the time. And he was playing well all the time. That makes the difference between the top 3 player, and a top 8 player. When he had the chance, he was killing the ball and winning the point, especiallly with his forehand drop shot. While when I was setting myself a lot of opportunities, I was tinning the ball or playing a high shot. He was finding the winner every time….
Shorbagy wins 3-0 [6] Mohamed Elshorbagy (Egy) v [12] Simon Rosner (Ger) 11-1, 11-9. 11-6
Mohamed
I had a good warm up to make sure I was getting a good lead at the start of the match. It was a tough match, and I worked very hard.

I'm playing James tomorrow, one of the greatest players ever, a role model for our sport, and I'm just so happy at my age to compete with that generation of players, Nick, Greg, James, Karim, the strongest generation that squash ever bore. I'll use that experience when I play against players of my own generation. For now, really proud to compete with them.

It's great to have the support of my family here, my mum, my dad and my brother, the Egyptian camp, and also Hadrian Stiff in my corner. It makes a big difference.
Round THREE
[4] Nick Matthew (Eng) 3-1 [11] Omar Mosaad (Egy) 11-4, 11-7, 11-13, 11-4 (71m)
Matthew maintains his unbeaten record against Mosaad, despite missing out on two match balls in the third.
[8] Amr Shabana (Egy) 3-0 [16] Miguel Angel Rodriguez (Col) 11-6, 11-5, 11-9 (37m)
Four time champion Shabana moves into his 11th World Open quarter-final.
Saurav Ghosal (Ind) 3-2 Henrik Mustonen (Fin)   5-11, 8-11, 11-8, 11-4, 11-2 (66m)
Fantastic fightback by Ghosal to become India's first ever World quarter-finalist
[1] Ramy Ashour (Egy) 3-1  [14] Cameron Pilley (Aus)  9-11, 11-8, 11-4, 12-10 (62m)
Defending champion Ashour remains unbeaten on this court, and for 52 matches …
[3] James Willstrop (Eng) 3-0 [9] Borja Golan (Esp)    11-4, 11-8, 11-6 (48m)
It was getting tougher as the match went one, but Willstrop through to the quarters …
[6] Mohamed Elshorbagy (Egy) 3-0 [12] Simon Rosner (Ger) 11-1, 11-9, 11-7
Shorbagy off to a flier but Rosner really made it tough int he last two games …
[13] Daryl Selby (Eng) 3-2 [5] Karim Darwish (Egy) 4-11, 11-9, 12-10, 8-11, 11-8
Fantastic win for Daryl Selby, making his first World Championship quarter-final
[2] Gregory Gaultier (Fra) v [10] Tarek Momen (Egy)  11-5, 11-6, 11-6