Peter Barker stuns Nick Matthew as Duffield hopes are dashed
Peter Barker produced a stunning straight-games win over world champion Nick Matthew as Surrey Health and Rackets fought back from two down to win the PSL title for a sixth time.
Benz-Bavarian Duffield  had forged ahead with victories by Andy Whipp and women's world champion Laura Massaro over Davide Bianchetti and Alison Waters.
But in a shock conclusion to a dramatic final at Surrey Sports Park in Guildford, defending champions Surrey came roaring back to win the world's most prestigious squash league, supported by Dunlop, for the fifth successive year.
The Croydon club's hero was top string, the world No8 from Brentwood in Essex, who celebrated his first ever straight games win over world champion Matthew when he beat his England team-mate, ranked two in the world, 12-10, 18-16, 11-5.
With two world champions in their line-up, Duffield were firm favourites to clinch a fourth title – but their first since 2007.
It took little more than an hour for the Derbyshire club to establish a 2/0 lead – retired former world number 64  Whipp showing that he still has what it takes as he despatched Surrey Health's Italian number one Bianchetti, formerly ranked 24 in the world, 11-8, 11-8, 11-8, and England's recently-crowned women's world champion Massaro seeing off her England team-mate Waters, the reigning British National champion, in five games.
It was the 28th match between Massaro and Waters since the pair contested the British Junior U14 Championship final in 1997. But world number two Massaro edged ahead 16-12 in the head-to-head tally, twice coming from behind to conquer the world No6 8-11, 11-4, 8-11, 11-5, 11-8 in 64 minutes.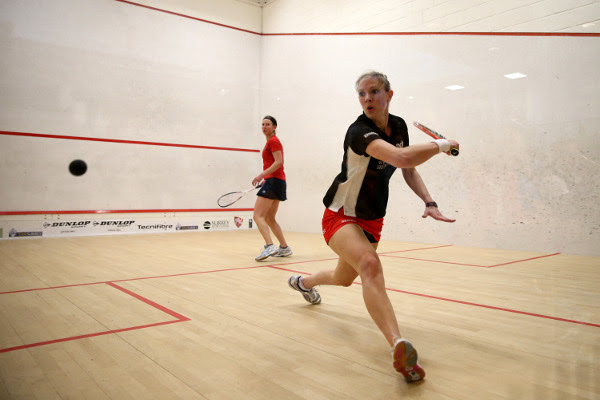 "I really wanted to win for the team – I knew my match could make a difference," said the 30-year-old from Preston (pictured above in action with Waters), believing at the time that her team was heading for a straightforward victory. "The crowd was great, and when I realised that Whippy had won, that gave me a real boost."
The animated crowd settled back to watch the 'decider' – with Sheffield's world champion Matthew expected to clinch the title for Duffield, beating Barker for the 29th time in 31 meetings since 2006.
"I don't know where that came from – some days it just all comes together, and today was one of those days," was how left-hander Barker summed up his stunning demolition of the seemingly invincible Yorkshireman – a result which brought to an end Matthew's PSL record 40-match unbeaten run!
The second game had the crowd on the edges of their seats – with Barker (pictured above in action with Matthew)having the first game-ball at 10-9, and both players having four each as they traded points before the underdog finally took it 18-16 to the sheer delight of the Surrey Health supporters.
"I felt quite relaxed – and when you've got nothing to lose, it becomes easier," continued Barker. "I played well and executed my game-plan.
"But Nick is a phenomenal player – it's only the third time I've ever beaten him. He's amazing and what he's achieved in the game is incredible. He's the one!"
During Barker's win, team-mate Adrian Waller had also secured a further point for Surrey Health, after beating Duffield's home-grown Joel Hinds, a former World University champion, 11-3, 11-8, 11-6.
And the fifth and final match – initially widely predicted to be a 'dead rubber' – was also well underway before the conclusion of the epic Barker/Matthew encounter.
Attention rapidly turned to the second of the two adjacent courts as Surrey Health's Adrian Grant, the world No24 from London, battled against Stephen Coppinger, Duffield's six-time South African champion ranked four places higher.
The crowd reaction of utter disbelief was entirely evident as Grant came away with a 13-11, 11-6, 11-9 triumph which kept the PSL trophy in Surrey Health's hands – against the odds – for a fifth year in a row.
"Pete was 1/0 up when I went on – and this was good for me as I didn't feel any pressure, not like I would have done if it had been two-all and I knew I was playing a decider!
"Playing Steve is like playing seven people! He just doesn't let go. That first game could have gone either way.
"In the second, I was much more focussed – I kept my intensity up. I could hear the crowd cheering a winner on the other court – but I didn't know who it was!
"He was ahead in the third – I think I got a bit too confident – but I was feeding off the support of the crowd, which really gee'd me up," continued the former world No9, a Commonwealth Games Doubles gold medallist (with Matthew).
"There's a great spirit in our team – all of us have played for the club for a long time and we're good friends on and off the court, and socialise a lot.
"Our manager Pete Smith has done an unbelievable job, organising us and getting us funding, etc. I'm glad we've been able to pay him back."